As you may have heard, my story "Delta Pi" has been nominated for the 2013 Prix Aurora Awards in the best short fiction category. I have posted information on how you can vote for it. But there are so other nominees I hope you will support.
Below are my recommendations for the 2013 Aurora Awards.
NOTE: If I list nominees with numbers, those are the order I recommend you vote in. If it's bullet points, I have no recommended order. The order of the bullets is by last name; vote as you wish.
The awards will be presented at Can•Con: The Conference on Canadian Content in Speculative Arts and Literature taking place in Ottawa on October 4-6. As such, I am giving the edge to Ottawans.
To vote in the Auroras, you must be a member of the Canadian Science Fiction and Fantasy Association. You can learn how to become a member on their site.
Best Novel
I'm friends with both
Marie Bilodeau
and
Chadwick Ginther
. While Chadwick is organizing the ChiSeries in Winnipeg, Marie gets the edge for living in Ottawa.
Destiny's Fall by Marie Bilodeau, Dragon Moon Press
Thunder Road by Chadwick Ginther, Ravenstone Books
Best Short Fiction
Of course I want you to vote for me! But give my friend Marie Bilodeau a vote too. Also, my friends Suzanne Church and Douglas Smith are also nominated, but they have both won the Aurora already… and they don't live in Ottawa.
"Delta Pi" by Matt Moore, Torn Realities, Post Mortem Press
"Happily Ever After" by Marie Bilodeau, When the Villain Comes Home, Dragon Moon Press
Best Poem/Song
I am friends with both Sandra and Helen. I can't pick between them.
"Roc" by Sandra Kasturi, Come Late to the Love of Birds, Tightrope Books
"The Ghosts of Birds" by Helen Marshall, Phantom Drift 2: Valuable Estrangements, Wordcraft of Oregon
Best Related Work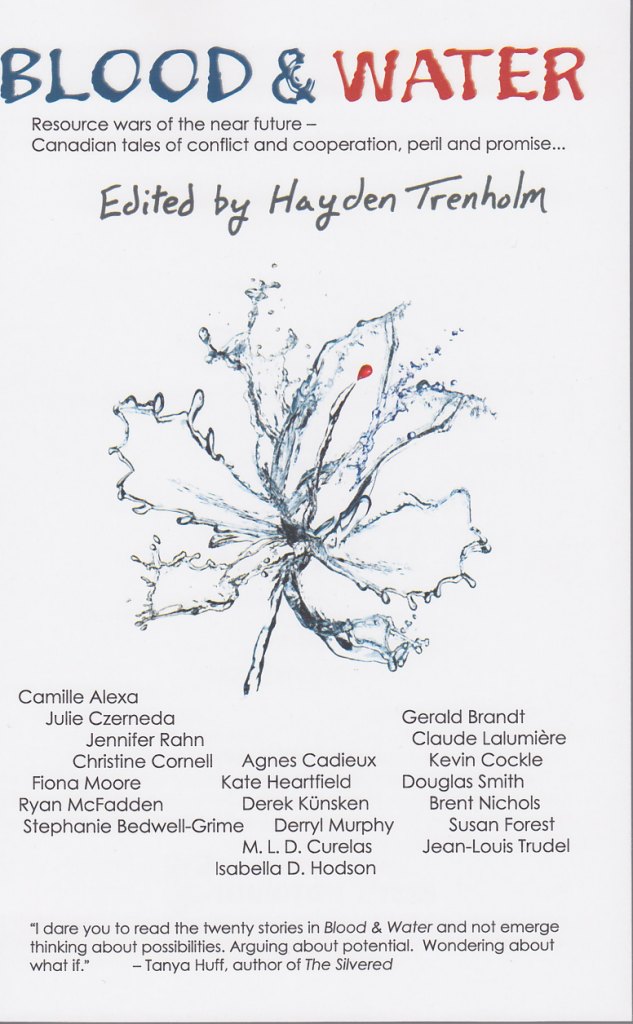 This one gives me fits. I am giving Hayden the #1 slot since he's from Ottawa. But Imaginarium is a great anthology, Hair Side, Flesh Side is a marvelous collection and On Spec is a great magazine (and they bought the first story I ever sold).
Blood and Water edited by Hayden Trenholm, Bundoran Press
Best Artist
No contest. Erik Mohr's covers for ChiZine Publications is the bomb.
Erik Mohr, cover art for ChiZine Publications
Best Fan Filk
Again, no contest. Plus, Kari has been the musical guest at ChiSeries Toronto for some time now.
Kari Maaren, Body of Work
Best Fan Organizational
Another tough one. The World Fantasy Convention was a masterpiece.  But Sandra Kasturi and the Marshalls sisters have been doing great work in Toronto with the ChiSeries and the SpecFic Colloquium. Not sure in which order you should vote, but definitely vote for all of them.
Evelyn Baker, Amy De Ruyte, and Peter Halasz, Executive Committee of WFC Toronto, 2012
Sandra Kasturi, Helen Marshall, and, James Bambury, Co-Chairs, Chiaroscuro Reading Series, Toronto
Sandra Kasturi and Laura Marshall. Co-Chairs, Toronto SpecFic Colloquium: Beyond the Human
Best Fan Related Work
Helen and Peter do great work, but I have to give the #1 slot to Michael Matheson. Now doubt Helen and Peter deserve to be recognized, but it was for an hour presentation. Michael Matheson has been going all year long to maintain his list of Canadian Speculative Fiction, which the Auroras honour. So vote for all three, but give Michael the #1 slot.
Michael Matheson, compilation and maintenance of the Can Spec Fic List