Star Wars, Episode IV: A New Hope may be one of the most perfect examples of the hero's journey and three act structure. No doubt, Lucas outlined the heck out of the script to ensure it hit every beat, twist and milestone that screenwriting manuals insisted a story should have.
But something I never considered, and think might be an interesting model to follow, is the five distinct phases in Luke's development. I will call these phases:
The Child
The Adolescent
The Man
The Warrior
The Hero
In each phase, Luke become more pro-active and gains more power over his fate. What's more, in every phase there is another male character influencing Luke's decisions. And the male character from the next phase will be introduced and clash with that phase's influencing character. This clash forces Luke to broaden his outlook and grow as a character.
What is this important? It provides a model one can use to develop and grow a hero (of either gender) through not just one, but several contrasting mentors.
Luke the Child
Luke begins as a child. He is naïve about the world, plays with toys, whines when he doesn't get his way, and lies to his Uncle about where he is going. At this phase, Luke's seeking adventure is contrasted against his Uncle Owen's pragmatism. Luke being beaten unconscious by Tusken Raiders shows that Luke is unprepared for a larger world of adventure.
Then Luke meets Obi-Wan. Obi-Wan is the gateway to his next level of development. Clearly, Obi-Wan and Owen do not see eye-to-eye, which puts Luke into conflict. While Obi-Wan's offer to teach Luke the Force is appealing, Luke's fear of his uncle causes Luke to decline Obi-Wan's invitation to adventure. It is only through Owen's death that Luke the Child is free to grow into Luke the Adolescent and follow Obi-Wan. (Had Luke arrived home and found his aunt and uncle safe, it's likely he would safe said "So long" to Obi-Wan and never left the Jundland Wastes.)
Luke the Adolescent
Free of his Uncle, Luke seeks adventure with Obi-Wan, who assumes the role of Luke's influencing character. Stating he's "Ready for anything" in Mos Eisley, Luke is (again) not up for the challenge and must be saved (again) by Obi-Wan.
While Obi-Wan represents an idealistic vision of a future life, the introduction of Han presents Luke with a realistic, utilitarian and selfish existence.
However, rather than being meek, as Luke had been with his uncle, Luke meets Han's "But who's gonna fly it, Kid? You?" quip with anger, not deference. Luke is growing.
And, just as Obi-Wan and Owen were at odds, Han and Obi-Wan argue over the best course of action and make all the decisions at this stage of the story. This leaves Luke as a follower and unable to be pro-active until Obi-Wan goes off to shutdown the tractor beam's power generator. Before Obi-Wan leaves, he rejects Luke's offer to go with him and instead instructs him to watch over the droids. In a subtle way, Obi-Wan is telling Luke it is time to stop being a follower.
Seconds after Obi-Wan leaves, Han and Luke get into an argument, showing that Luke the Child, who would have backed down, is no more. Seconds after that, R2-D2 locates Princess Leia and Luke becomes pro-active. Understanding from Obi-Wan that Han is motivated by money, Luke appeals to Han's greed to go rescue the Princess. Once again, Luke is growing.
He proves himself in getting into the detention level and freeing Princess Leia. Still, Han is the more pro-active of the characters in these scenes.
Luke the Man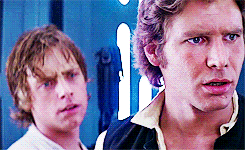 While Han has been the dominant character with Obi-Wan's exit, it is Luke who finds a way out of the trash compactor. Once freed, Han treats Luke like a comrade and equal with the line: "If we can just avoid any more female advice, we ought to be able to get out of here." When Leia lectures him, Han looks to Luke for support—acknowledging him as an equal—and Luke responds with one of the greatest eye rolls in cinematic history.
Luke's actions have won Han's approval, validating he is now a man. Han is now the character against which Luke is compared.
Luke continues to grow through getting the princess to the Millennium Falcon and fending off the TIE fighter attack, but in the process witnesses the death of Obi-Wan. As with Owen, the man who held Luke's future is now gone.
Once free of the Death Star, Han continues to treat Luke like an equal, first through teasing him about Leia and then offering that he should go with Chewbecca and himself: "Why don't you come with us? You're pretty good in a fight. I could use you." This is high praise from Han Solo.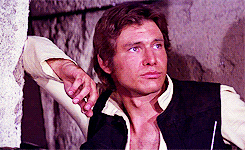 But Luke is on the cusp of becoming a warrior. It is the other rebel pilots, Red Leader especially, against whom Luke is comparing himself. In the pilot briefing, the conflict between Han and the rebellion is seen in a short shot of Han waving dismissively at the plan to attack the Death Star. For Han, it's suicide; for the rebellion, it is what they must do.
With words of validation from Biggs and Red Leader (in the extended editions), Luke has outgrown the practical and selfish Han Solo to the point where, in their words of parting, Luke is in the more powerful position. Now it is Luke forcing Han to explain himself.
We have come 180 from the first confrontation in Mos Eisley.
Luke the Warrior
With Han gone, Luke finds himself among a group of warriors, accepted as an equal. He survives wave after wave of assault. Finally, with most of Gold and Red squadrons destroyed, Red Leader picks Luke to lead the second attack run. Luke has proven himself a warrior.
The male character against which Luke will be compared in the next phase is Darth Vader, who destroys most of the remaining rebel fighters. Finally, it is not an ally but the antagonist against whom the hero must tangle.
Luke the Hero
In the trench run, Luke is alone. Most of Red Squadron is gone, Obi-Wan is dead, Han has left and even R2-D2 is disabled. The villain, Darth Vader, has isolated Luke and has the boy in his sights. So what happens?
Luke rises to become a hero in two ways.
The first is the return of Han Solo. While we credit Han for saving Luke, Han would never have returned without Luke's admonishment. Luke could have just let Han go, but Luke's appeal to something beyond simple greed is what forces Han to return. In this way, Luke has saved himself.
Freed of pursuers, Luke becomes a hero in a second way. He believes in the Force, opening himself up to the "larger world" Obi-Wan spoke of, and makes the shot that none of the other, more experienced pilots could make.
Luke returns to Yavin IV to find a hero's welcome.
So what does this mean?
A hero's journey is a very common but also very tricky story arc to get right. In Episode IV, Lucas used a series of mature, established characters to act as signposts for his hero. Except for Han's change of heart at the end, none of these mentor characters needed to change, allowing the story to revolve on the character development of only the hero. And since they all played different roles—parent, wizard, hired man, general—their role as mentors did not feel repeated or trite as Luke encountered each one.
If you are telling a hero's journey, it's a powerful and useful model to follow.